Our Approach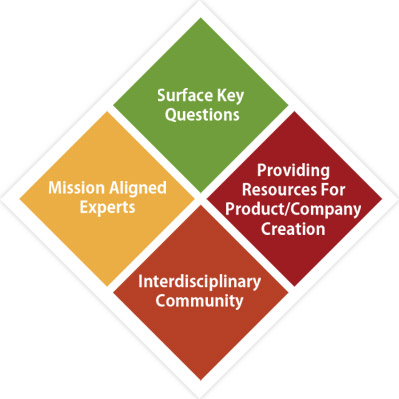 TTL has a four-part approach to catalyzing the development of the Transformative Technology sector:
Surfacing key questions facing the sector
Providing resources – foundational, intermediate, and advanced
Pointing towards mission-aligned experts
Supporting a vibrant interdisciplinary community
Surfacing Key Questions
The 2015 Transformative Technology Conference began with a pre-conference summit to define the core ideas and areas that are shaping the Transformative Technology space. All conference participants were invited to participate in small group visioning breakouts that were broadly organized around the following themes: definitions, methods, outcomes, and ethics. A powerful vision emerged from the community that shaped the debate and was encapsulated in the full conference sessions that followed. See the detailed outcomes here.
Ethics
How do we define 'progress', 'wellbeing', 'good', and 'bad'? And should we?
How can we preserve and promote freedom and diversity?
How much regulation is necessary to prevent unethical development and harmful usage of TT?
How do we allow people to take risks to be vulnerable and transform through suffering?
How do we preserve balance and health in an increasingly digital world?
Definitions
What are we transforming? Meta definitions are required i.e. body, mind, space, society, environment
What is Transformation? Meta definitions are required: i.e. states, traits, behaviors, group and individual
What is Transformative Technology? What qualifies a technology as "Transformative"?
How does TT fit in our daily lives?
What are the phases of transformation? For individuals? For groups?
Methods
How do we generalize and customize the methods employed by TT?
How do we quantify, qualify, validate and track the efficacy and benefits of TT? And how do we account for the role of the facilitator?
How can we develop an ontology, taxonomy, clinical language and certification in TT, and how do we establish a collaborative data infrastructure to support research, education and development?
How can immersive experience (Via art, media, and sensory stimulation/reduction) be used to facilitate outcomes in TT?
How do we make TT affordable and accessible to ALL?
Outcomes
Meta Questions: How do we assess everything that matters and is worth optimizing, b. What philosophic values framework is guiding that assessment, and c. How do we simultaneously optimize for everything that matters without externalities?
How can we simultaneously optimize for seemingly dichotomous outcomes that both matter? (E.g., speed of processing and patience, drive and presence, focus and adaptability, personal/ other than personal, etc.)
How can we use technology to help us assess which brain/physiology states are desirable for which (subjective and objective, personal and interpersonal) outcomes?
How can we best utilize technologies to positively enhance human experience and behavior (for the benefit of all sentient beings)?
What macro-economic shifts might benefit the optimized proliferation of these outcomes?
Providing Resources – Foundational, Intermediate, and Advanced
Foundational: TTL conducts foundational research in the transformative technology space. As the educational and experiential entry point for entrepreneurial opportunities within the transformative technology sector, we also provide access to core resources for learning. This includes an array of research, entrepreneurship and technical expertise and information.
Intermediate: TTL's intermediate resources for the community include access to the maker space and project collaboration at the lab, founder matching, and more. These resources are offered to facilitate the ideation and creation of transformative technology products and companies in order to expand the sector.
Advanced: For community members who have identified a project or venture that they want to pursue, TTL provides advanced resources in the form of academic study structure advising, investor matching, and in some cases, office space.
Pointing Towards Mission-Aligned Expertise
TTL offers a variety of practical expert resources to help inform, improve, and advance community members, ideas. These resources include workshops, seminars, and advice from passionate experts-in-residence, mentors, and industry partners.
Supporting a Vibrant Interdisciplinary Community
TTL offers a variety of practical expert resources to help inform, improve, and advance community members, ideas. These resources include workshops, seminars, and advice from passionate experts-in-residence, mentors, and industry partners.
The Transformative Technology Conference
The Transformative Technology Conference is the only conference focused on learning, sharing, and connecting in order to drive serious research and development, commercialization, and awareness of Transformative Technology.
If you are action-and outcome-oriented and ready to move beyond talking and into making transformative technologies, you should attend this conference. You'll find a strong community of people who are highly successful in their disciplines and share your passion for transforming the world.
This is the conference where you'll hear deep dives into the current status of engineering and research and meet potential collaborators and co-founders while networking with investors.